Coldstream Mechanical Air Conditioning Services in Vernon BC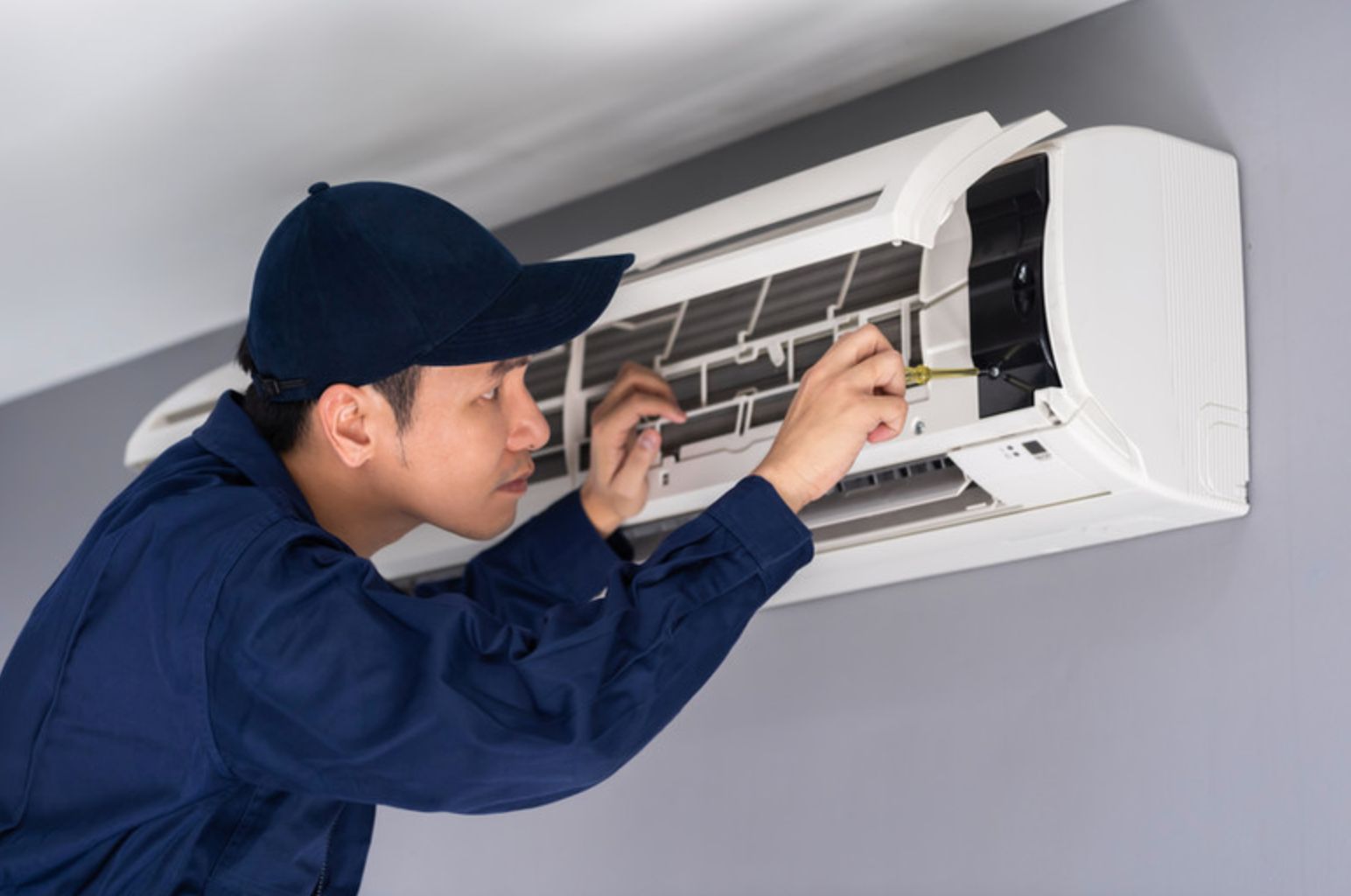 Coldstream Mechanical offers air conditioning services in Vernon BC and the entire North Okanagan region. Our AC professionals are knowledgeable and skilled enough to handle all sorts of air conditioner issues and we offer reliable installation, repair, and maintenance services on air conditioning units.
AC/Heat Pump Repair

AC/Heat Pump Installation

AC/Heat Pump Maintenance

Indoor Air Quality Assessment

Ductless Split Service/Repair/Replacement
Looking for someone to help with maintenance of your air conditioning unit in the North Okanagan?
According to the Government of Canada, it's extremely important to maintain your air conditioning system for safety, not just comfort! Coldstream Mechanical is extremely efficient and knowledgeable when it comes to doing preventative maintenance on AC systems in our area—especially because the summers in Vernon BC get VERY hot and people run their ACs double time all summer long.
If it's been a while since you've had your AC checked out and maintained, call us today to schedule a routine air conditioner maintenance call to make sure your AC is running safely and effectively. The best time to do preventative maintenance on an AC unit in the North Okanagan is in early spring before the heatwaves of summer start hitting us.
When conducting AC maintenance, we'll work on:
adjusting the electrical system for tighter connections and safe operation.
lubrication of moving AC parts to prevent friction and promote efficient operation.
cleaning the AC condensate line to prevent clogging.
scrubbing the evaporator and condenser coils for maximum airflow and heat absorption.
straightening the aluminum coil fins for efficient airflow.
assessing the system controls for proper functionality.
Upon request, our Coldstream Mechanical HVAC professionals will also change your air conditioner's air filter and remove the debris and dirt lodged in the system. A successful air conditioner tune-up should increase air capacity, improve airflow, and ensure the system is balanced properly.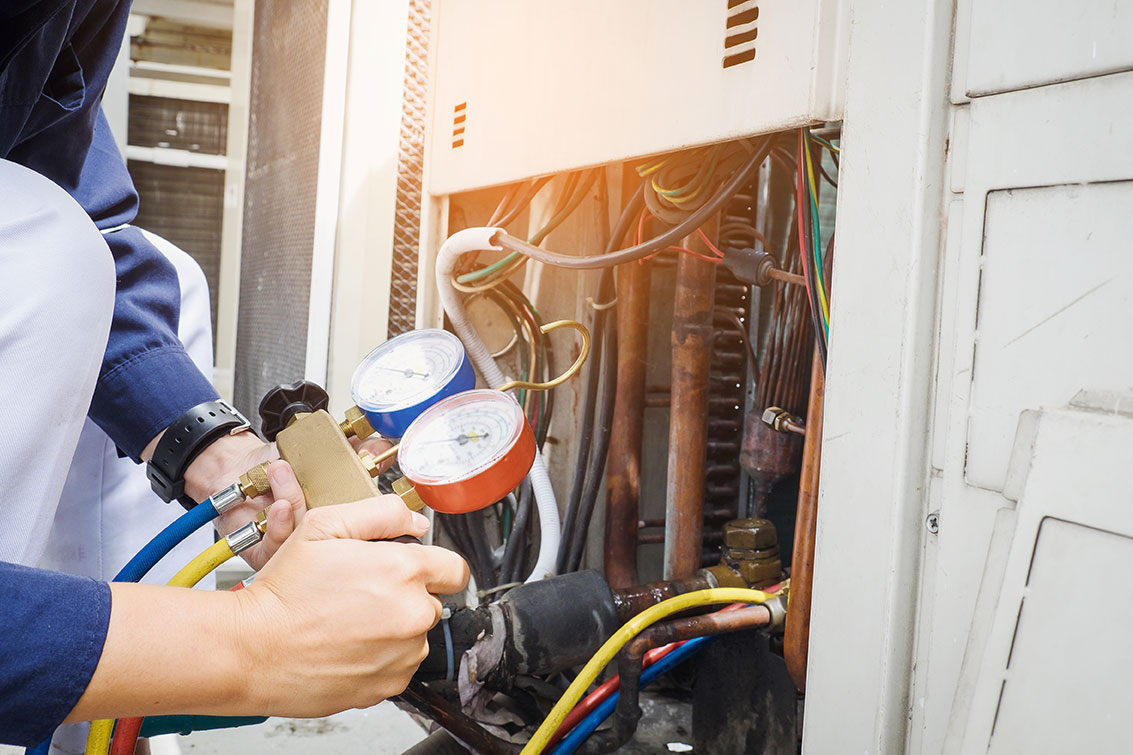 Troubleshooting Tips for an Air Conditioner that's Not Working Properly
AC won't turn on
If your air conditioner refuses to turn on, check the thermostat to ensure it is set correctly. If it is, proceed to look for a tripped breaker in the electrical panel. If all fails, turn off the system and call Coldstream Mechanical for a quick resolution.
Air emitted is not cold
If your air conditioner is not cooling, we highly recommend turning off the unit and calling an expert for a proper diagnosis. Also, be sure to change the air filter as often as recommended by the manufacturer. Debris in the outer unit or a leaky refrigerant can cause the AC unit to malfunction.
Dripping water
Is water dripping from your air conditioner? If yes, check for moisture on the condensate line (the AC PVC pipe). A refrigerant leakage leads to ice accumulation on the coil, which eventually melts and drips. We highly recommend that you turn off the system and call an expert for proper diagnosis.
Uneven cooling
A leaking duct or inadequate insulation can lead to uneven cooling. The appliance may also have blocked registers causing problems.
AC producing strange sounds
Strange noises from an air conditioner signify a critical issue. Turn off the AC system and contact reliable air conditioning experts.
Coldstream Mechanical has certified, experienced air conditioning professionals who are quite familiar with the issues that can come up with air conditioning units. Please call us today so we can help you troubleshoot and resolve your air conditioner issues.
Why Choose Coldstream Mechanical for Your Air Conditioning Services?
We thrive on excellent customer service
Our entire Coldstream Mechanical team is dedicated to excellent customer service. If you're not satisfied, we won't be either and we'll make sure you are. We take the time to listen to the needs of each of our customers and we work with your needs and your budget to give you the best service possible.
Our customer support is available Monday to Friday, 8:00 a.m. to 5:00 p.m. We also offer emergency services in off hours.
We are affordable
We want our air conditioning services in Vernon BC and the North Okanagan to be available to a wide variety of people, so we have very affordable air conditioning installation, repair, and maintenance plans. We save you money while also providing you with the quiet comfort of a well-maintained AC unit.
We are flexible
Since our AC technicians have worked on many air conditioning units in a wide variety of homes and businesses, we can offer flexibility in our air conditioning services—tailoring solutions to fit your schedule, needs, and budget.
We offer Smart options
Coldstream Mechanical promotes environmental sustainability by recommending ductless ACs for energy efficiency. Also, the mini-split models we often work with offer operational flexibility since they are compact, efficient, and portable.
We are precise & efficient
Our air conditioner specialists conduct in-depth system inspections for a comprehensive AC tune-up. Once our HVAC experts examine your AC system, they work towards enhancing its efficiency and achieving optimal performance without costing you a ton of money or dragging out the job.
Contact Coldstream Mechanical today for all your home comfort cooling needs this summer. We will make sure your air conditioner is running smoothly, reliably, and efficiently so you can enjoy a stress-free summer.
Do you need help with installation or repair of an air conditioner?
Contact us to get started!